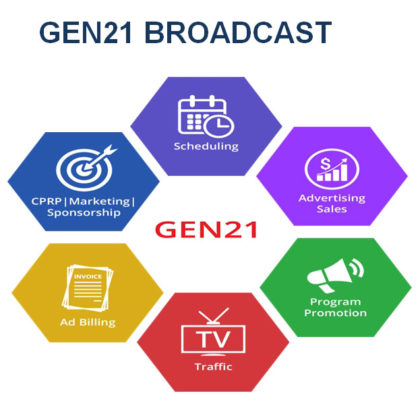 GEN21 Schedule
GEN21 Schedule enables broadcaster to perform fast paced scheduling activities using Templates & Patterns and access, in real-time, information about the event schedules. This  helps in maximizing the Operational Efficiency, minimizing duplication of efforts and reducing the human error.
Efficient and user-friendly Scheduling Planner facility
Integrated with Content Management (for Run Control)
Upload Schedule / EPG utility
Allows profile-based schedule upload
Backup Program Schedule
GEN21 Sales
GEN21 Sales provides the workflow for Ad booking, pre-emption, make-good etc of commercial spots and covers the whole lifecycle of the sales management. It is a comprehensive business solution that monitors and manages the sales activities in the single integrated system.
Multiple PO types, Packages and Commercial time-band restrictions Support
Built-in system-based placements and notifications
Flexible rate card with Object Type aggregations
Seamless integration for booking late order between Sales, Traffic and Billing
Facility for Single or Multiple Cross channel Make good with free selection
Extensive status reporting items for clients
GEN21 Promo
GEN21 Promo helps in planning various types of promotional events flexibly and associates to the schedules. Long term Planner and Bulk booking features enables to actively decide for the promo make lists, which can be linked later to the program schedules.
Accommodates promos of various Object Types
Time period validity check throughout
Facility to define cross-channel promos
Promo templates and sponsorship tags
Bulk Promo Booking
Multiple promos Find and Replace features
GEN21 Traffic
Traffic module uses the state of art technology to manage the media orders and Traffic Log by using a single, integrated system. This is the work area for approving and authenticating different types of Orders, which streamlines business flow of information easily and accurately. Traffic module is fully integrated with Content Media Management System for usage and amortization update consistency and integrate seamlessly with Automation systems for instant Log Reconciliation.
User-friendly, Color-coded Traffic Log Manager
Total control over Slots, Commercial Breaks and Event placements
Multi format, multi region & multiple editing session support
Automatic Under/Over notification and built-in Late Order handling mechanisms
Primary as well as secondary event support
Seamless Automation system integration/Log Reconciliation
Complete placement status & decision support reporting
BXF compliant log